MAKE BOOKING NOW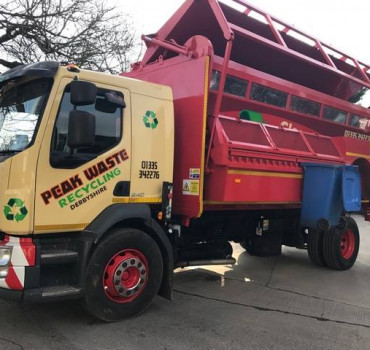 Our kerbside recycling vehicle enables us to collect several different segregated recyclable materials. We supply 240Lt. lidded Wheelie Bins for glass (clear, brown & green) tins & cans, plastic bottles and paper which can be collected at the same time due to the vehicle having seperate compartments. Legislation states that all waste must be pre-treated before reaching its final destination. By using these bins, you are not only saving money but you are adhering to legislation enforced by the government.
We are constantly looking at alternative methods to dispose of unrecyclable materials, aiming towards a 'Zero to Landfill' policy. Every year we achieve a higher recycling percentage investing in new machinery and continuous staff development.
- The energy needed to melt recycled glass is 30% less than that needed to melt raw materials.
- Glass is 100% recyclable with no loss in quality and can be recycled many times.
- Recycled glass reduces the need for limestone, soda ash and sand, which are used in the manufacturing process, helping to conserve natural resources . Each tonne of glass recycled in the furnace replaces 1.2 tonnes of raw materials.